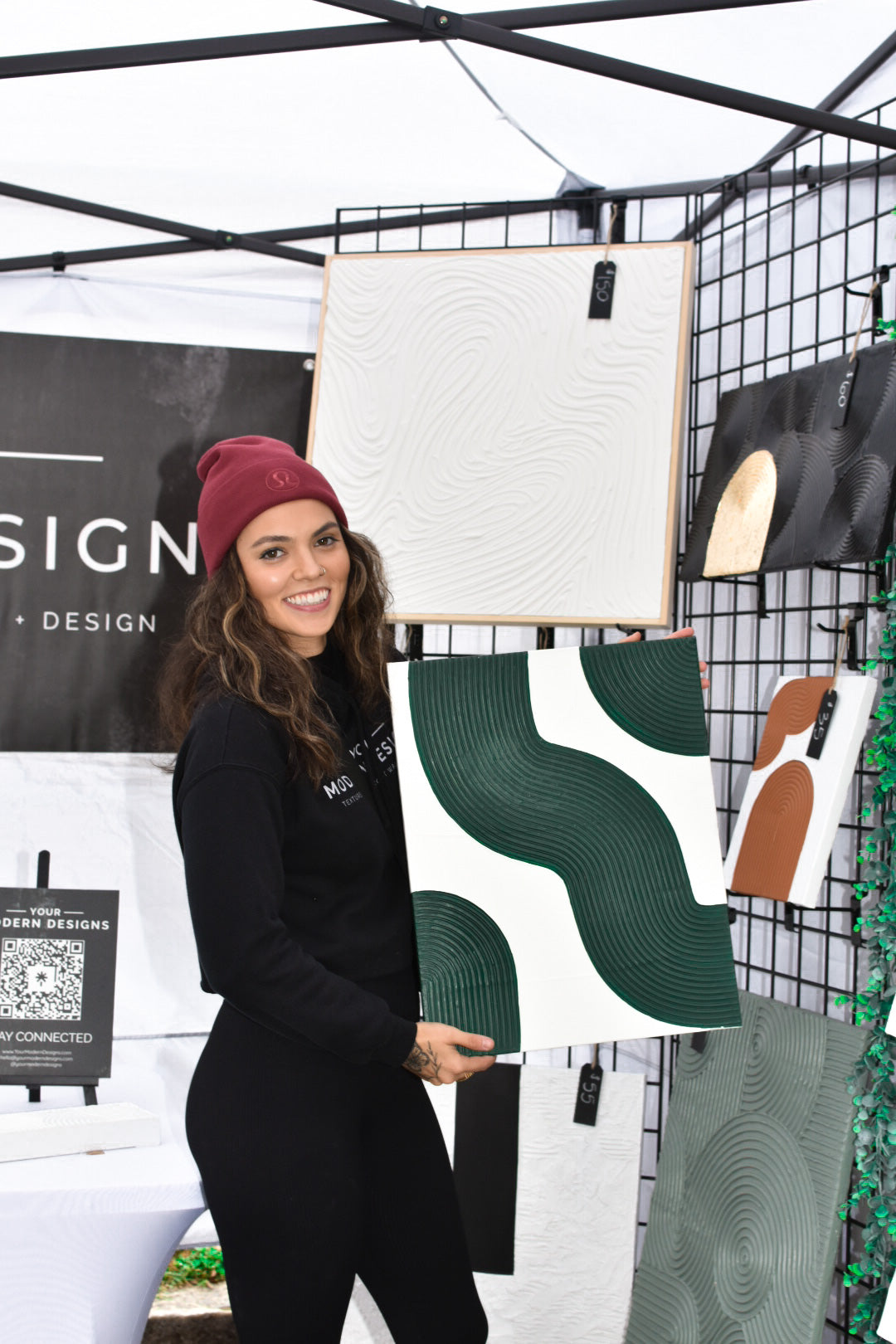 About The Artist
Hi, friends! I'm Maggie Snider, a 27-year-old living in Charlotte, NC who officially launched Your Modern Designs in February 2022!
Your Modern Designs is a multi-disciplinary design business located in the heart of Charlotte, NC. Concentrated on the use of plaster art, fabric art, and accent walls, I help my clients create a space they love. Inspired by texture, my goal is to use three-dimensional art and designs to invoke an organic feel, yet modern and methodical look.
A quick back story on how Your Modern Designs was created. In December 2019, I was introduced to paint-therapy as a way to help aid mental health. As someone who struggled and continues to struggle with anxiety, I decided to pickup painting as a way to unlock mental calmness and soon enough it was the only thing that would ease my mind for hours upon hours. I was never interested in art prior to this.
Fast-forward to December 2020, as I was working from home in the midst of COVID-19, I decided to paint a few line-art canvases as apartment décor and soon enough had people reaching out wanting the same pieces. So, in January 2021 I started 'Your Modern Art' as my New Years resolution to sell line-art canvases as my side hustle but also as my mental safe place. I remember feeling bad when I charged $25 for a commission that took me 3+ hours, mainly because the art was just as much for me as it was for them.
As time went on, I had friends inquire about larger art and design projects I wasn't sure if I knew how to do but my answer was always, "YES! I'll figure it out" and here we are in January 2022, having quit my corporate job in September 2021 to pursue a new dream!
Throughout 2021 I had many trials and errors, but found myself having a stronger passion for art and design projects — specifically plaster art and accent wall designs. That is why I decided to change the name to 'Your Modern Designs' in January 2022 in order to accurately portray what this page is all about — helping you create a space you love!
P.S. - If you struggle with mental health in any way, you are not alone and I encourage you to try and pick up a paint brush or do something that brings you joy as art has done for me — you never know where it will lead.
xx,
The Creator,
Maggie Snider